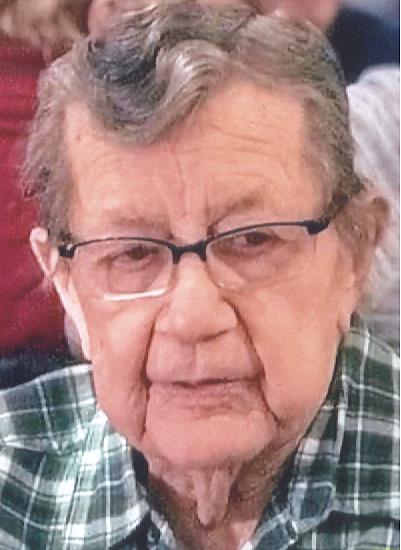 Date of Passing:
December 6, 2017
My Hero is gone now.
My hero laid the foundation for the man you see before you. He taught me sacrificial love, humility, hard work and compassion. Not by words, mind you, but by his example and he showed me daily even before I could recognize it. As a young sailor, he and Mom made a long trip to meet me and take me into their home as an infant. My hero rescued me and gave me a good life through his hard work.
My hero was raised in upstate New York, a young cobbler by trade. The great war had started and this provided an escape and an opportunity to serve. He wanted to follow his hero, his brother Joe, but he chose the US Navy. There he learned to serve, feeding sailors and fine tuning his craft. Dad was a great cook, rising in the ranks and sailing on a number of aircraft carriers and destroyers, some shore duty, and some fighter squadrons. Roosevelt, Mission Bay, Coral Sea, The Sullivans, Bristol, Midway…My Dad's ships. He served the fighting men of America. My Hero.
Eventually, my hero met a fine Portuguese woman and he was smitten. She recognized his potential and he became her hero also. They settled in East Providence, then Riverside to start a family. Odd how they chose me, but then were given 3 other outstanding children Cindy, David, and Buzzy. He was their hero also. He loved us all unconditionally.
I grew up with the Navy and Dad's sea stories. One of my earliest memories, while stationed in Quonset, he took me to work at about 2 or 3 years old. While he prepped for breakfast, to keep his hyper, rambunctious son from storming the mess decks, he placed me in a giant copper kettle drum to babysit me while sailors filed through the chow line.
After 20 years and retirement from service, my hero was chosen to run Arnold's Restaurant in Seekonk, Mass. To me, it was my Dad's place. From the time I was 7 years old, if I wasn't in school, I was there with him learning his trade. The first food he taught me to make was cole slaw. And he let me cook breakfast for his best customers. I still remember the little train on Taunton Ave. at his place that he would let me drive.
Eventually he sold Electrolux vacuum cleaners for a season. I have 2 of those now and always think of my hero when I see them! But he found a position as Head chef at the Holiday Inn downtown. And I followed him again. There he served big time politicians, rock stars, and other celebrities. He had Bobby Vinton, one time, call Mom at home and start speaking Polish. Mom said she wasn't Polish and Bobby said, "Oh, I thought you were." Mom said, "By injection only." Working with Dad, I was able to meet some of my music heroes like Frank Zappa. Dad laid out some luxurious banquets for dignitaries and the community. Everybody loves Ed.
As I grew up with constant references to the Navy, it would, of course lead me to follow in the footsteps of my hero. I joined the Navy at 19 to be a servant, a chef just like Dad. Well, because of my test scores, I ended up as an engineering technician on submarines. My Dad was the only one who wrote me in boot camp. Upon graduation, I flew home, got a room at his Holiday Inn, and at 5 o'clock in the morning in full uniform, entered the kitchen and stood at attention until he saw me. He cried and I was happy to be in his boots. I had left Rhode Island in 1975 settling in Norfolk, Virginia, home of the largest Navy base in the world., constantly reminding me of my hero. I ended up working on Navy ships in a shipyard and every time I called him, he'd ask, "What ships are in the yard and what are you cooking for supper?"
Dad eventually settled at Providence College as the head chef, serving the hierarchy of the college and church and future leaders of the community. Then he retired. Where for almost 30 years now has enjoyed the company of his best friend, Mom. They pursued dreams of Hawaii and Las Vegas and other travels. And up to this year, at 92 years old, would still ask, "What do you want for breakfast?" and would make his specialties for the family. At 92, still serving, still humble, still my hero.
Mark 9
They came to Capernaum. When he was in the house, he asked them, "What were you arguing about on the road?" But they kept quiet because on the way they had argued about who was the greatest.
Sitting down, Jesus called the Twelve and said, "Anyone who wants to be first must be the very last, and the servant of all.
Psalm 23 The LORD is my shepherd; I shall not want. He maketh me to lie down in green pastures; He leadeth me beside the still waters. He restoreth my soul; He leadeth me in the paths of righteousness for His name's sake. Yea, though I walk through the valley of the shadow of death, I will fear no evil; for Thou art with me; Thy rod and Thy staff, they comfort me. Thou preparest a table before me in the presence of mine enemies; Thou anointest my head with oil; my cup runneth over. Surely goodness and mercy shall follow me all the days of my life; and I will dwell in the house of the LORD for ever.
Written by his son
Edward J. Ketz Jr.