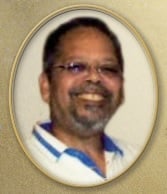 Date of Passing:
May 17, 2021
Allen Cyrus Johnson Sr., 70, of Providence, RI, passed away peacefully to live his eternal life with the Lord on Monday, May 17, 2021 at Miriam Hospital, Providence. Allen was the beloved husband and " best friend" of Julia M (Lima) Johnson, whom he was married to for over 46 years.
He was born in Providence, RI, and was the son of the late Walter and Elsie (Potter) Johnson. He was a lifelong resident of Providence.
Allen graduated from Hope High School, Providence, class of 1970. He was a Veteran of the Vietnam Conflict, having served with US Army.
He was an assistant manager for McCleod Optical, Warwick, for 40 years, retiring in 2015.
Allen was a man of strong faith, and faithfully attended Immanuel Baptist Church, Pawtucket. He served the children's ministry, "Jr. Church" and "Patch the Pirate" he was affectionately known as "Captain ". In addition to the children's ministry, he served his Christian family for 30 years driving the Church van.
He was an avid reader and sports fan. He enjoyed fishing, listening to music.
Allen was a devoted husband, father and grandfather, family was everything. He was always there for his family and friends, he never said an unkind word, and how he lived was an example to all. His love, kindness, friendship and smile will be sadly missed.
Allen was so blessed in this life, his faith has become sight.
His greatest reward will be seeing the One in whom he placed that faith, the One he lived for, his Lord and Savior, Jesus Christ.
Besides his wife, his legacy includes two sons, Allen C.Johnson Jr., of Stoughton MA, Albert M. Johnson of East Providence, Three daughters, Grace M. Johnson, Roberta A. Johnson both of Providence, Kathleen L Goff and her husband Shawn of Tampa FL, four brothers, Michael Johnson and his wife Barbara of Sherman Oaks CA, Arthur Johnson, DavidJohnson and Glen Cardozo and his wife Debra all of Providence, RI, four sisters, Carole Williams of Providence, RI, Lynn Rodrigues and her husband David of Riverside, RI, Jo-Ann Fernandez and her husband Raymond of Providence, RI, Joan Calvit and her husband Lee of Warwick RI, two sister-in-laws, Annmarie Solomon and her husband Marco, Robertina Gearhart and her husband David both from Ft Myers, FL, six grandchildren, Allen S Johnson, Evan R Johnson, Aiyanna R Johnson, Adrian Q Farmer, Kiara J Corry, Joshua I Johnson and a host of loving cousins, nieces, nephews and friends. He was the brother of the late John Johnson, Walter Johnson Jr., Alice Watson, Mildred Morgan, and Kay Lawson. He was the brother-in-law of the late Richard Williams.
His funeral service will be held on Tuesday, May 25, 2021 in the W.RAYMOND WATSON FUNERAL HOME, 350 Willett Avenue, Riverside at 11:A.M. Visitation 10:00 – 11:00 A.M. In lieu of flowers, memorial gifts may be made to American Lung Association, 260 W Exchange Street, Providence, RI 02903 would be deeply appreciated.
Burial with military honors will be private in RI Veterans Memorial Cemetery, Exeter.