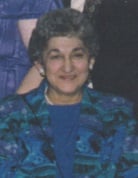 Date of Passing:
December 27, 2016
Smith, Amelia F., 89, of Floyd Avenue, Riverside, died peacefully on December 27, 2016 surrounded by her loving family. She was the wife of the late John P. Smith Sr.
Born in Providence, a daughter of the late Giovanni and Maria (Iannelli) Quarto, she lived in Riverside for 32 years previously residing in Providence.
Mrs. Smith a bookkeeper for 25 years before retiring in 2000. She also worked at Olneyville Radio & Television and Town & Country Cleaners.
Amelia was an avid reader and solved daily word puzzles. She was an avid fan of the New England Patriots and Boston Red Sox.
Amelia was past President of the Olneyville Boys Club Swimming Team, where she was also the chairmen of the 50th Anniversary of the Olneyville Boys Club. She enjoyed reading, writing and crocheting.
She is survived by her children, Christine M. Lapre of Arizona City, AZ, Louis J. Gelfuso Sr. of Lady Smith, VA, Mark S. Smith of New Bern, NC, Stacy A. Davis of Riverside, Kevin J. Smith of West Warwick and John P. Smith Jr. of Coventry; grandchildren, Louis J. Gelfuso Jr. of Riverside, John N. Gelfuso of Maine, Joshua Davis of East Providence, Jared Davis of Bristol, Amanda Davis-Enos of Manville, Nicholas Smith of West Warwick, Stephen Smith of North Providence, Benjamin Smith of Warwick, Marylou Gelfuso-Quirk of MA, Elissa Smith-Gay of NC, Nathan Smith of NC, Ian Smith of NC, Ethan Smith of NC, Joseph Lapre Jr. of AZ and Christopher Lapre of AZ and great-grandchildren, Domenic Gelfuso, Isabella Gelfuso, Mason Enos, Cole Enos, Logan Enos, Alana Barreto, Isabelle West, Gianna Quick, Thomas Quick, Eric Gelfuso and Lindsey Gelfuso. She was the sister of the late Frances 'Dolly' Quarto-Nardelli, Michele Quarto, Frederick Quarto, Angelo Quattro, Joseph Quarto, Mary Murphy, Anna Koziol, Christine Cinquegrano, Rose Vieira Livingston and Arthur Dispirto.
Her funeral service will be private. Entombment will follow in Highland Memorial Cemetery Mausoleum.