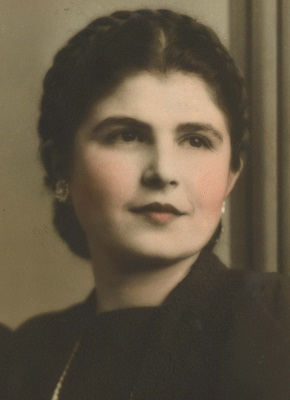 Date of Passing:
August 10, 2018
Anastasia (Trambukis) Brun of East Providence, widow of Manuel Brun of 54 years, died quietly at home August 10, 2018, in the presence of loved ones. She lived 100 years.
A lifelong Rhode Islander, she was born in Providence and was one of six children of the late John and Kyriakitsa (Pararas) Trambukis, originally from Greece.
She is survived by her daughter and primary care taker, Johanna Quattrucci; two sons, Stephen Brun and Thomas Brun and his wife Deborah; and only granddaughter, Melissa Quattrucci. Outliving all of her siblings, she was the sister of the late Theophany Trambukis, George Trambukis, Athena Coelho, Emily Maidonas, and Catherine Vernancio.
Anastasia had many nieces and nephews and was nicknamed "Nana" by her first-born nephew, John Coelho. As a child, John had difficulty pronouncing Auntie Anna so he called her Nana and the moniker stuck throughout her long life.
Known to her friends as Anna, she was a strong and determined woman who overcame challenges beginning at childhood. At the age of 5, she tragically lost her mother and was temporarily placed at St. Vincent de Paul Orphanage with her two younger sisters, Emily and Katy. She took on a motherly role and became their protector in that institution until her father was able to re-unite her family with a step-mother, Panayiota (Sofianou) Trambukis.
At 9, she contracted scarlet fever and despite overhearing the visiting doctor tell her parents she would not survive the night and scolded them not to call him back to the house again, she fought back and with her new, loving mom at her bedside for several months, made a full recovery.
She attended Central High School and worked at her father's restaurant, The Paragon Lunch, on Atwells Avenue in Federal Hill, where 2 donuts and one cup of coffee cost 10 cents. Upon graduation, she held a variety of factory jobs at Atlantic Mills, Imperial Knife, and U.S. Rubber where she made rubber heels for the Russian soldiers during WWII.
Anna had a sharp mind and a love of nature. She told captivating stories from every decade in vivid detail and most often, referred to those from the Great Depression, Hurricane of 1938, and WWII. Later in life when confronted with her fourth cancer diagnosis at 96, she astonished her healthcare team by enduring an aggressive and successful, 30-day treatment regimen.
She valued family and friends who spent time with her by visiting or talking on the phone. She always greeted visitors with a pleasant smile, as she loved her company. Popular for her Greek cookies and pastries, she enjoyed baking, was a skillful gardener and embroiderer, and an avid Boston Celtics fan.
Her funeral service will be held Thursday, August 16th at 10:30am at the Annunciation Greek Orthodox Church, 175 Oaklawn Avenue, Cranston, with viewing at 10am. She will be laid to rest with her beloved Manny at the North Burial Ground Cemetery, Providence.
Anna had a caring spirit and often thought of all of the people in the world who were suffering from illness of any kind. It truly upset her to see so many patients, young and old, struggling with a cancer diagnosis at the Fain Building at Miriam Hospital, where she was warmly received for numerous hydration treatments. Therefore, in lieu of flowers, please share Anastasia's concern for others in need and consider a donation in her memory to the Cancer Fund at Miriam Hospital Foundation, PO Box H, Providence, RI 02901 or to her home visiting healthcare team from VNA of Care New England Foundation, 51 Health Lane Warwick, RI, 02886.
She will be dearly missed. May her memory be eternal and everlasting.