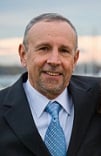 Date of Passing:
July 24, 2016
Sherry, Andrew, J., 'Joe', 69, of Woodland Road, died peacefully at home on July 24, 2016 surrounded by his loving family. He was the fiance of Barbara Smith of Barrington. He was also the husband of the late Beverly E. (Coppolino) Sherry and the former husband of Jean-Ann Sherry of Cranston.
Born in Pawtucket, a son of the late Andrew Leo Sherry and Eva Edna (Laperriere) Sherry, he lived in Barrington for three years previously residing in Burrillville.
Mr. Sherry was employed as a manager of the bacteriology lab at the Rhode Island Department of Health for 25 years before retiring in 2002. Since then, he had pursued his passion for skiing as an instructor at Waterville Valley, NH.
An avid cyclist, he was also a sport fisherman and boat captain. In addition, he was a history enthusiast and enjoyed reading, classic movies and jazz. He was a member of the Professional Ski Instructors' Association of America and the Burrillville Elks Club.
Mr. Sherry received a Bachelor's degree in microbiology at the University of Rhode Island Class of 1968 where he was a member of Sigma Pi. He then went on to receive his Master's degree at the University of Massachusetts.
He is survived by his daughter, Joanna King, and her husband Joshua of Warwick, a step-daughter, Cara McKenna, and her wife Rebecca Price of Cambridge, MA, a brother, Michael Andrew Sherry of Wakefield, and his beloved yellow lab, Chandler as well as several nieces and nephews. He was also the brother of the late William John Sherry.
Relatives and friends are invited to attend a Memorial Service at the Barrington Congregational Church, County Road, Barrington on Saturday, July 30th at 11am.
In lieu of flowers, donations may be made to The Waterville Valley Adaptive Snowports Program, P.O. Box 505, Waterville Valley, NH, 03215.