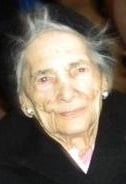 Date of Passing:
May 12, 2012
DiSanto, Angelina, 106, of Fales Avenue, died peacefully on Saturday May 12, 2012. She was the wife of the late Salvatore DiSanto.
Born in Falvaterra, Italy, a daughter of the late Pio and Maria V. (Marsella) DeAngelis, she lived in Barrington for 87 years.
Mrs. DiSanto was a twister for the former Collins & Aikmen Co. for 5 years before retiring in 1960.
Angelina was a communicant of Holy Angels Church and she enjoyed gardening.
She is survived by four grandchildren; Mariann (Rodrigues) Butler, her companion and caregiver and her husband Brian of East Providence, Angela (Rodrigues) and Bruce Algier of Westerly, John and Patricia Zinni of Riverside and David and Deborah Zinni of East Providence, four great grandchildren; Kevin Creighton, Alisha Algier, John and Matthew Zinni and two great great grandchildren. She was the mother of the late Lillian Rodrigues, Stella V. Zinni and her husband Nicholas Zinni and sister of the late Filippo, Nicola and Mariano DeAngelis.
Her funeral will be held on Tuesday May 15, 2012 from the W. RAYMOND WATSON FUNERAL HOME, 350 Willett Avenue, Riverside at 8 am with a Mass of Christian Burial in Holy Angels Church, Maple Avenue, Barrington at 10 am. Burial will follow in Santa Maria del Campo Cemetery, Upland Way, Barrington. Calling hours are Tuesday morning 8-9 am.