Ann A. (Mastriano) Codega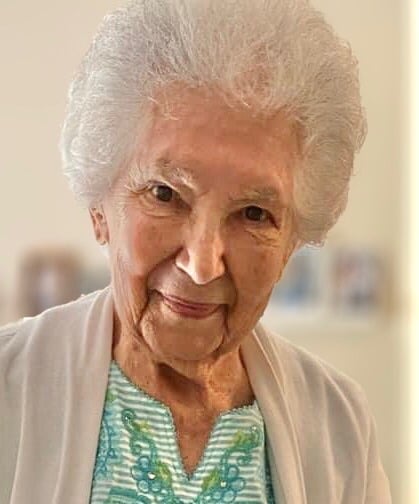 Date of Passing:
July 8, 2023
Codega, Ann Angela (Mastriano), 91, formerly of Barrington, passed away peacefully July 8, 2023 after a brief illness, surrounded by her loving family. A lifelong resident of Barrington, she was a daughter of the late Emilio (John) and Esther (Medici) Mastriano and the beloved wife of 65 years of the late Louis S. Codega. She was the sister to the late Joseph Mastriano and Barbara Hannah.
She graduated from Leander R. Peck High School in Barrington prior to working as an administrative assistant in Providence and Bristol. As her family grew, she devoted herself to being a stay at home mom to her seven children.
A communicant of Holy Angels parish, she was active in many activities including the women's guild and as a volunteer in the CCD program for many years. She was always one of the first at hand to bake or prepare meals for fundraisers or families in need or to welcome new neighbors.
As empty nesters, she and Lou enjoyed going on more than 30 cruises to many destinations around the world. A cross-word puzzle master, she enjoyed playing all kinds of games and staying in touch with her family through social media, and especially looked forward to the updates from her grandchildren and great-grandchildren.
Anna, Gramma-Louie, Munga or Nana, she lived for her children and their children and loved seeing them grow and prosper. In addition to never missing a concert or a graduation, she was most fulfilled cooking and baking for them. Visitors always were greeted with a home cooked meal or fresh baked cookies and desserts. She will be remembered often in an apron, with a baby in her arms or both!
Ann is survived by her children: Louis T. Codega, Mary Ann Higgins, Katherine Codega, Joseph Codega, Rev. John Codega, Anthony Codega and Michael Codega, their spouses and families – including twelve grandchildren and five great grandchildren, as well as many cousins, nieces and nephews.
Family and friends will be greeted at calling hours on Friday July 14, 2023 from 4:00pm to 6:00 PM in the W. RAYMOND WATSON FUNERAL HOME, 350 Willet Avenue, Riverside, RI. A Mass of Christian Burial will be celebrated at Holy Angels' Church on Saturday, July 15, 2023 at 11:00 AM. A private burial will follow at Gate of Heaven Cemetery.
Her family thanks and acknowledges the loving and caring staff Anchor Bay Assisted Living, and at Hope Health Hospice who saw her through her final days.
In lieu of flowers, donations in Ann's memory may be made to Hope Health Hospice, 1085 North Main Street Providence, RI 02904, or Good Neighbors Soup Kitchen, 55 Turner Avenue, Riverside RI 02915.