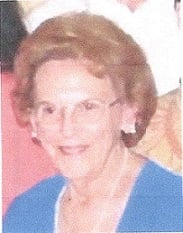 Date of Passing:
April 29, 2014
Ann Elizabeth (O'Brien) Thompson, 91 years of age, departed this life on April 29th, 2014 at Tockwotton on the Waterfront in East Providence, RI. While she will be greatly missed by her loved ones, they are consoled that she has joined her Savior and is receiving her eternal reward.
Ann was born in New Haven, Connecticut to Anna Elizabeth (Tracey) and William Joseph O'Brien. Ann grew up in Providence near the O'Brien and Tracey families on Smith Street and later, on Sackett Street.
Ann developed a fondness for travel early in her life and would sometimes accompany her father on trips throughout southern New England and New York while he served as Chief Clerk, and later as a Superintendent for the New Haven Railroad.
Ann frequently reflected on many fond memories of her youth while spending summers near the water with her cousin Jim Killoran in Tiverton, RI. Her sister, Margaret Patricia (McKenna) was born 14 years after Ann's birth, close upon the time Ann entered her freshman year at St Xavier Academy in Providence. After her graduation in 1940 and subsequent enrollment at Business School, Ann found employment at the Home Life Insurance Company in Providence where she later met her future husband, Oliver L Thompson, Jr.
Ann and Oliver were engaged prior to his enlistment in the Army in April 1942 and married after the cessation of WWII at St Matthew's Catholic Church in Cranston, RI on May 29, 1945. Her marriage ceremony was performed by her cousin, Rev. Russell J McVinney, who later became the Bishop of Providence.
Ann and Oliver were married for 44 years until his death October 13, 1989. Ann is survived by six children: Oliver Leo III (Barbara) of Atlanta, Georgia; William Brian of Jacksonville, Florida; John Michael of Barrington; Ann Elizabeth Scagos of Riverside; Mary Patricia Renner (Keith) of Ashaway and James Christopher (Ann Marie) of Barrington; twelve grandchildren: Kathryn Thompson Bongiovanni (Philip) and Dr. Bradford Thompson, Michaela Thompson Driscoll (Thomas) and Andrew Thompson, Gregory and Stephen Thompson, Jessica Scagos Zeigler (Matthew) and Michael Scagos (Rachel), Olivia and Mitchell Renner, Danielle and Grace Thompson; and eight great grandchildren.
Ann was a Barrington resident for 68 years, from 1945 to 2013, and remained a faithful parishioner of St Luke's Catholic Church throughout her life. Ann loved spending her summers at the family home on Martha's Vineyard and occasionally travelled in conjunction with the many professional and political events she attended with her husband, the owner of a real estate and insurance business, who also served the people of Barrington in various positions as the Town Council President, State Representative and RI House Republican Leader; he also served as the President of the RI Board of Realtors. Ann was privileged to attend the Presidential Inaugural of John Kennedy and was acquainted with a number of members of Congress, many state chief executives and state and local leaders.
Ann loved her faith, her Church and family and friends. Nothing pleased her more than staying at home, raising her children and enjoying the company of her grandchildren and great-grandchildren.
Her funeral will be held on Monday May 5, 2014 from the W. RAYMOND WATSON FUNERAL HOME, 350 Willett Avenue, Riverside at 8:45 a.m. with a Mass of Christian Burial in St. Luke's Catholic Church, Washington Road, Barrington at 10 a.m. A committal service will be held in Gate of Heaven Catholic Cemetery, East Providence. Following the committal service there will be a reception for family and friends at the Rhode Island Country Club in Barrington.
Calling hours are Sunday 4-7 p.m. Flowers are respectfully omitted. Contributions may be made in Ann's honor and mailed to the St. Jude Children's Research Hospital, 262 Danny Thomas Place, Memphis, TN, 38105 or st.jude.org.