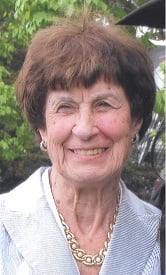 Date of Passing:
August 16, 2013
Hawksley, Anna, M., 87, formerly of Willett Avenue, Riverside, died peacefully on August 16, 2013 surrounded by her loving family at the Elmhurst Extended Care, Providence. She was the wife of the late Walter 'Sonny' Hawksley.
Born in Providence, a daughter of the late John and Sadie (Ruffel) Karouz, she was a lifelong resident of East Providence.
Mrs. Hawksley was a member of the Seekonk YMCA. She enjoyed cooking, spending time at the beach and having a positive outlook on life.
She is survived by two sons; Roy W. Hawksley of Rehoboth, MA and Wayne E. Hawksley of Rumford, a daughter; Patricia A. Tuthill of East Providence, two sisters; Jennette Nicholas of East Providence and Anita Gendron of Seekonk, MA, eight grandchildren and 2 and a half great grandchildren. She was the sister of the late Naiaff Karouz.
Her funeral service will be held on Tuesday August 20, 2013 in the W. RAYMOND WATSON FUNERAL HOME, 350 Willett Avenue, Riverside at 10 am. Burial will follow in Mount St. Mary Cemetery. Calling hours are Tuesday morning 9-10 am. Flowers are respectfully omitted. Contributions in Anna's memory to the Alzheimer's Association, 245 Watermen Street, Suite 306, Providence, RI, 02906 would be deeply appreciated.