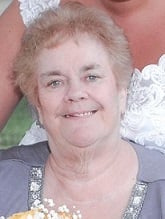 Date of Passing:
May 30, 2015
Akers, Annette, M., (Barnes), 71, of Booth Avenue, Riverside, died peacefully on Saturday May 30, 2015 surrounded by her loving family. She was the former wife of Donald Akers of Troy Mills, Iowa.
Born in Lincoln, Maine, a daughter of the late Elliott and Christine (Harmon) Barnes, she lived in Riverside for over 50 years.
Mrs. Akers was a bartender for the Riverside American Legion Post #10 for 42 years. She was a member of the American Legion Woman's Auxiliary. She enjoyed bowling, playing cards, boating and especially spending time with her loving family.
She is survived by a daughter, Kimberley A. Akers and her husband Travor Robinson of Riverside; two step-children, Dawn L. Akers of Lynn, MA and Larry Akers and his wife Deanna R. Akers of East Providence; a grandson; ten step-grandchildren; two sisters, Brenda A. MacLean of Riverside and Christine B. Jenkins of Rumford; a brother, Elliott C. Barnes of East Providence and several loving nieces and nephews. She was the sister of the late Deborah A. Gendron and David Harmon.
Her funeral service will be held on Wednesday June 3, 2015 in the W. RAYMOND WATSON FUNERAL HOME, 350 Willett Avenue, Riverside at 11 a.m. Calling hours are Tuesday 4-8 p.m.