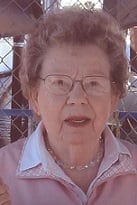 Date of Passing:
April 20, 2017
Adams, Arlene, of Riverside Drive, died peacefully on April 20, 2017 surrounded by her loving family. She was the wife of the late Kenneth V. Adams.
Born in Danielson, Connecticut, a daughter of the late Edward and Althea (Marquardt) Beaver, she was a lifelong resident of Barrington.
Mrs. Adams was sixth grade teacher for the Town of Swansea School Department for thirty years before retiring in 1991.
Arlene was a member of the Barrington Baptist Church. She adored her family and loved gardening.
She is survived by two daughters; Althea Telford of Barrington and Cynthia Watson of Barrington; four grandchildren, Katey Carroll, Jill Lukens, Adam Telford and Blaire Telford; five great grandchildren, Brody Carroll, Summer Lukens, Brock Carroll, Tuckerman Lukens and Madelyn Telford and a sister, Eleanor Beaver of Barrington. She was the sister of the late Kenneth and Edgar Beaver.
Her funeral service will be private. Burial will be held in Forest Chapel Cemetery Nayatt Road, Barrington. Contributions in Arlene's memory to the Barrington Christian Academy, Old County Road Barrington, R.I. 02806 would be deeply appreciated.