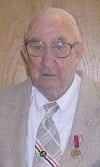 Date of Passing:
October 14, 2016
Plouff, Arthur, 96 of East Providence, passed away,peacefully, at his home on Friday, October 14th, surrounded by his loving family. He was the beloved husband for 29 years of the late, Nora (Kando) Plouff. Born in Pawtucket, he was the son of the late Arthur Plouff Sr. and Marian (Coulter) Plouff. Arthur was a Teamster with Local 251 and worked for Standard Transportation until he retired.
As with so many young men responding to the call to serve their country, after the unprovoked attack of our military base at Pearl Harbor on December 7th, 1941, Arthur joined the United State Army Air Corps, now known as the United States Air Force. As a Staff Sergeant (Main Chief) of a ground crew responsible for keeping the B-24 bombers flying in the European North African Middle Eastern Theater, and Italy campaigns during World War 2, Arthur was a member of the 344th Bomb Squadron, and the legendary 98th Bomb Group acknowledged for their heroism in the famed Ploesti low level bombing missions to wipe out Hitler's oil.
In June of 1996 Arthur was an honorary pallbearer at the funeral at Arlington National Cemetery of his commanding officer, Colonel John R. 'Killer' Kane, recipient of the U.S. Military's highest award, the Medal of Honor. In August of 2006, in a simple ceremony, with his family in attendance, Arthur was recognized for his service to his country by U.S. Senator Jack Reed.
A very special thank you goes to the Veteran's Administration for his medical care, the compassionate people of the VNA RI Hospice, and his incredible VA personal physician, Doctor Lidia Vognar.
Arthur is survived by his son, Steven, and his wife June of Riverside, his son, Brian, and his fiance Gina, of Swansea MA, his daughter, Kathy, and her husband Kenneth, of Las Vegas, Nevada, his grandchildren, Mary, Steven Jr., Carolyn, Jennifer, Jason, Brendan, and Kara, and his great grandchildren, Kyle, Jason Jr. and Autumn . Arthur is also survived by his sister, Elsie Slonina of Seekonk, Mass., and his brother Robert Plouff of North Carolina, and numerous other loving family members. Arthur was pre-deceased by his sisters Norma Croce, and June Grenga, and his brother Howard Plouff.
His funeral will be held on Wednesday October 19, 2016 from the W. RAYMOND WATSON FUNERAL HOME, 350 Willett Avenue, Riverside at 8:45 a.m. with a Mass of Christian Burial in St. Brendan Church, Turner Avenue, Riverside at 10 a.m. Burial with Military Honors will follow in Gate of Heaven Cemetery. Calling hours are Tuesday 5-8 p.m.