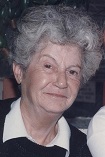 Date of Passing:
April 22, 2016
Barbara Adele Irwin (Allen) passed away peacefully at her daughter's home in Rhode Island on April 22, 2016 with her loving husband of 64 years by her side.
Barbara was born on July 14, 1931 in Troy, New York, the daughter of Walter C. and Isabelle (Betts) Allen. She graduated from Troy High School and continued a life-long friendship with a group of classmates, the 'Birthday Girls'. Barbara loved the ocean and looked forwards to a yearly vacation with family at the Cape. She was an active member in her Church and an avid quilter and gardener.
She is survived by her husband, Charles V. Irwin; 3 children, Janice Irwin, Steven Irwin and Joyce Hickey; and 4 grandchildren, Timothy, Jana, John Marcel and Nicholas. She was the sister of the late Jean Allen.
Relatives and friends are invited to attend a brief Graveside Committal Service in the Memory Gardens Cemetery and Memorial Park, Albany, NY on Thursday April 28, 2016 at 1 p.m. Burial will follow. In lieu of flowers, contributions may be made to the Evangelical Lutheran Church, P.O. Box 267, Poestenkill, NY 12140. Arrangements are by the W. Raymond Watson Funeral Home, East Providence, RI.