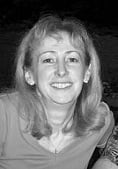 Date of Passing:
December 18, 2015
Marot, Barbara Ann, a lifelong resident of Riverside, RI, passed away Friday December 18, 2015 surrounded by close family and the best friends any girl could ever ask for. She fought a long, brave battle against Primary Ciliary Dyskinesia (PCD).
She is survived by her mother, Isabelle Marot of Riverside, and by her brother and sister, Kenneth Marot and Marilyn Adams. She also leaves two nieces, Kelly O'Donnell and Marcy Feeney and her nephew, Jonathan Adams. She will be greatly missed by her five great nieces and nephews; Andy, Isabelle, Raegan, Benjamin and Shay.
Barbara was quick witted and kind hearted. She liked to perform random acts of kindness and enjoyed the simple things in life. She was a graduate of E.P. HS class of '75 and worked for many years as the office manager at University OBGYN.
Relatives and friends are invited to attend a Mass of Christian Burial on Saturday March 5, 2016 in St. Brendan Church, Turner Avenue, Riverside at 11 a.m.. In lieu of flowers, donations to www.pcdfoundation.org are appreciated.