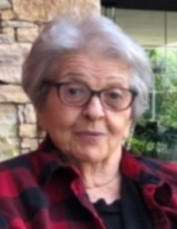 Date of Passing:
December 18, 2021
Lufsey, Barbara J., 90, of Haines Park Road, Barrington, died on December 18, 2021 at home surrounded by her loving family.
Born in Yonkers, NY a daughter of the late Peter and Anna (Bober) Moses, she lived in Barrington for six and a half years, previously residing in Harrison, NY.
Mrs. Lufsey was a market researcher for several research companies in Westchester County, NY.
Barbara was a member of Harrison Presbyterian Church. She enjoyed reading history, traveling and keeping up with current events.
She is survived by her two daughters, Laurie Kraus of Barrington and Donna Koval of Rye, NY; six grandchildren; one niece, Georgetta Moses and a companion, Amedio "Bob" Butteglione of Carmel, NY. She was the sister of the late, George Moses and Marion Moses.
A Graveside Committal Service will be held on January 10, 2022 followed by a Burial in the Ferncliff Cemetery, Hartsdale, NY.