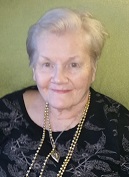 Date of Passing:
October 6, 2015
Conheeney, Barbara, L., (O'Brien), 75, of Riverside, died peacefully on October 6, 2015.
Born in Providence, a daughter of the late John J. and Virginia (Hickey) O'Brien, she lived in Riverside for 20 years previously residing in Barrington.
Mrs. Conheeney was a teacher for the East Providence School Department for 30 years before retiring in 1995. She was the youngest certified teacher in the State of Rhode Island.
Barbara was a member of the East Providence Chorus. She was a graduate of Bay View Academy and Salve Regina University Class of 1960.
She is survived by three sons, Robert M. LaCharite of Barrington, Mark A. LaCharite of Warren and David J. LaCharite of Riverside; a daughter, Kim A. Pietraszek of Westport, MA; five grandchildren and three great grandchildren.
A Celebration of her Life will be held on Saturday October 10, 2015 in the W. RAYMOND WATSON FUNERAL HOME, 350 Willett Avenue, Riverside at 11:30 a.m. Burial will follow in St. Francis Cemetery, Pawtucket.
Calling hours are Friday 4-8 p.m. Flowers are respectfully omitted. Contributions in Barbara's memory to a charity of your choice would be deeply appreciated.