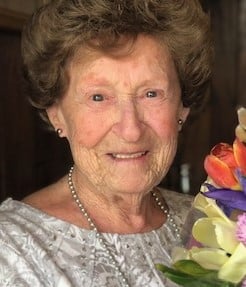 Date of Passing:
January 1, 2022
MacKenzie, Barbara H., 91, of Barrington, died peacefully with family present on January 1, 2022. She was the widow of Brenton H. MacKenzie, Jr. They had been married for 52 years.
Born in Providence, a daughter of the late Harry and Lillian (Burke) Ashton, Barbara lived in Barrington for 65 years.
Barbara is survived by her daughter, Nancy MacKenzie, and her husband, Myles M. Pickar, of Cranston, as well as a grandson, Daniel M. Pickar, DMD, and his fiancée Danielle Boucher of Cranston.
Barbara was predeceased by her siblings Robert, Harry, James, Violet Winn, Minnie Noreiko, Virginia Marks, and Edith Pomeranski. Barbara is survived by her younger brother, Charles Ashton of Swansea, Massachusetts.
Barbara worked as a Data Entry Operator for the State of Rhode Island in the Department of Employment Security for 35 years before retiring in 1981.
She had a deep love of family. Her grandson, Dan, was her pride and joy. She enjoyed cooking, was always up for a shopping spree, and loved to iron clothes, which she could do for hours!
Barbara was called "Bunky" by many. Until recently she was still out enjoying life, meeting new people and always complimenting whomever she met along the way. Her zest for life was remarkable.
"Bunky" had a plucky independence and a sharp wit. She will be missed by all who knew her.
Her funeral service will be held on Friday, January 7, 2022 at 10 a.m. in the W. RAYMOND WATSON FUNERAL HOME, 350 Willett Avenue, Riverside, Rhode Island. Calling hours will be from 9-10 a.m. Burial will follow in Prince's Hill Cemetery, County Road, Barrington.