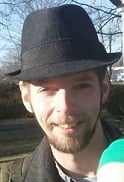 Date of Passing:
April 6, 2016
Eby, Benjamin, W., 35, of Humboldt Avenue, died unexpectedly on April 6, 2016.
Born in Pawtucket, a son of the late William E. and Donna M. (Sousa) Eby, he lived in Pawtucket for 5 years previously residing in Rumford.
Mr. Eby was a computer installer for the past 12 years. He enjoyed working on computers.
He is survived by two sisters, Cassandra L. McQuiggan of Rumford and Abigayle B. Nolan of East Providence and a brother, Everett J. Eby of Roanoke, VA.
His funeral services and burial will be private.