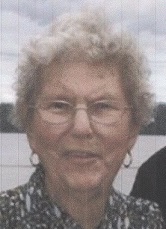 Date of Passing:
January 24, 2015
Aldrich, Betty, Fitton, 90, of Bullocks Point Avenue, Riverside, died peacefully on January 24, 2015 surrounded by her loving family.
Betty was the widow of Edward S. Aldrich and the daughter of Robert M. Fitton and Ethel Fitton Owen. Her earliest years were spent living on a number of lighthouses throughout Long Island Sound, where her father was in the Lighthouse Service as a Keeper.
She graduated from Peck High School in Barrington, RI in 1943.
Entered the Woman's Army Corps in 1944, where she was assigned to an Intelligence unit at the Pentagon in Washington, DC, supporting the war effort when she met her husband Edward. They were married in 1945 for 40 years, establishing their residence on Narragansett Terrace in Riverside.
While a full time mother, Betty managed the family business Edward S. Aldrich Inc., Painting Contractor. She also became a Realtor working with her mother Ethel and sister Roberta Flynn in the family real estate business, Fitton Associates.
She later entered a career in banking, retiring from the former Fleet Bank after 25 years.
Betty first arrived on Prudence Island in 1946 as a summer resident with her parents, becoming a homeowner in 1961 and a full time resident after her retirement in 1986. While living on her beloved island she was active in several island organizations, including the Sewing Club and holding a seat on the former Prudence Island Water Board.
She spent many hours enjoying her beloved water view while reading any number of her many books.
Betty is survived by Edward 'Hap' Aldrich and his wife MaryAnn of Prudence Island, RI; Stephen M. Aldrich and his longtime companion Michele Bennett of North Kingstown, RI and formerly of Prudence Island; Priscilla J. Mason of Riverside, RI, with whom she made her home for the past 7 years and Elizabeth A. 'Betsey' Porter and her husband William Hebert of Englewood, FL and formerly of Prudence Island. She was the proud grandmother of 8 grandchildren and 5 great-grandchildren. She was also a communicant of the former St. Mark's Episcopal Church in Riverside, RI.
She was predeceased by her sister Roberta Flynn and brother Robert Fitton.
It was Mom's wish that in lieu of flowers, donations be made to the Prudence Island Volunteer Fire Department, Prudence Island, RI, 02872. Also in accordance with her wishes, services will be private.