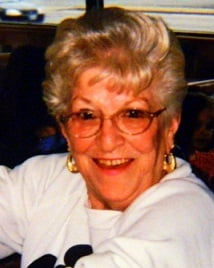 Date of Passing:
December 10, 2012
Carlson, Beverly, A., 80, of Providence Street, Rehoboth, MA, died peacefully on December 10, 2012 at home surrounded by her loving family. She was the beloved wife of Leonard A. Carlson.
Born in Providence, a daughter of the late Harold and Helen (Brewster) Booth, she lived in Rehoboth, MA, for 53 years.
Mrs. Carlson was a waitress-hostess at Crestwood Country Club for 30 years before retiring in 1992.
Besides her husband of 48 years, she is survived by four daughters; Deborah A. Sills-Husnander of Seekonk, MA, Kathleen F. Sills-Mason of Port St. Lucie, FL, Victoria L. Sills-Saunders of Pawtucket and Wendy Carlson Babbitt of Seekonk, MA, a son; Michael S. Sills of Oakland, ME, a brother; Harold E. Booth Jr. of Portland, ME, a sister; Joan Carter of Seekonk, MA, eleven grandchildren and ten great grandchildren.
A Celebration of her life will be held on Sunday December 16, 2012 in the W. RAYMOND WATSON FUNERAL HOME, 350 Willett Avenue, Riverside at 3 pm. Calling hours are Sunday 1-3 pm.