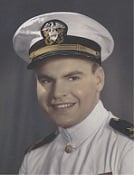 Date of Passing:
November 15, 2015
Dessel, Captain Arnold M. USN Ret., 94, of Barrington, a successful businessman, naval officer and civic leader died Sunday, November 15, 2015 in Bristol surrounded by his family. Born in Boston, MA, he was the son of the late Herman and Dora (Marcus) Dessel. He lived in Connecticut as a young man and moved to Barrington, RI where he lived for 50 years. Arnold was the beloved husband of the late Florian O'Donnell Dessel.
Captain Dessel began his career by enlisting in the Navy in 1941. After qualifying under the V-12 Program, he attended Yale University graduating in 1946 with a degree in Chemical Engineering. Upon graduation, Captain Dessel was commissioned an Ensign in the US Naval Air and served in the Pacific during WWII. Captain Dessel was recalled and served in Korea during the Korean Conflict. Captain Dessel remained in the Naval Air Reserve for 30 years, receiving numerous honors. As Commander, he was awarded the Noel Davis Trophy in 1968 and 1969, which was awarded annually to the most efficient aviation division of the US Naval Air Reserve. Captain Dessel ended his Naval career as Commanding Officer of the South Weymouth Naval Air Station.
Arnold began his business career at the Connecticut Hard Rubber Company in marketing, focusing on silicone rubber within the aerospace industry. Leveraging his knowledge of advanced materials, Arnold cofounded Sil-Med Corporation: a pioneer in the medical application of silicone devices and tubing. Arnold served on the national Board of Directors of the Health Industry Manufacturers Association. After developing a successful international company with a state-of-the art facility in Tauton, MA, the company was sold to Saint-Gobain of France.
Mr. Dessel was very involved locally. In the 1970's he created and developed Tall Pines Drive and donated Heritage Woods to the Barrington Land Trust. He served for many years on the Barrington Harbor Commission and was an active member at the Barrington Yacht Club, Metacomet Country Club and the Bristol Elks. He enjoyed many sporting and outdoor activities. He was very involved in all aspects of physical fitness, participating in hockey, football and later in tennis, golf, skiing, beach and boating.
Arnie's biggest accomplishment and source of great pride was his family and many good friends. Arnie, growing up an only child, embraced his wife Florian's large family, the O'Donnell's, and thoroughly enjoyed attending the many family reunions. His children, grandchildren and great-grandchildren brought him tremendous happiness.
He is survived by his five children: Joan and Richard Abrams of Bristol, RI, Elaine and Peter Hess of Bristol, RI, Paula and Dennis Lyons of Rehoboth, MA, Barbara and Michael Genetti of Barrington, RI and Bill and Allison Dessel of Barrington, RI, as well as 11 grandchildren and 7 great-grandchildren.Private services were held at Gate of Heaven Cemetery. A celebration of Arnold's life will be held on January 10th 2016.
In lieu of flowers, donations may be made to the Rhode Island Veterans Home Activities Fund, 480 Metacom Avenue, Bristol, RI, 02809 would be deeply appreciated.