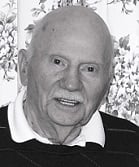 Date of Passing:
November 30, 2016
FURTADO, CARL F. 96, of Barrington passed away peacefully on November 30, 2016 at the Philip Hulitar Hospice Center surrounded by his loving family, concluding a full and happy life.
Carl was born to Charles and Mary Furtado. He grew up in Fairhaven, MA where he was an outstanding high school athlete, going on to play semi-pro football after graduation. He began a career at the Standard-Times newspaper in New Bedford, MA prior to the attack on Pearl Harbor, when he enlisted in the Army. Assigned to the Army's 36th Combat Engineers, Carl made landings in North Africa, Sicily and twice in Italy, including at Anzio as part of the Allied Forces that liberated Rome in 1944. Injured shortly after, he returned to the States, to recover and then to resume his newspaper career as a linotype machinist.
It was then that he met the love of his life, Millicent (Tripp) to whom he was married for 60 years, until her death in 2005. Moving to Barrington, Rhode Island in 1955 to work at the Providence Journal he raised his family of 3 sons, volunteered in scouting, church and coaching, played golf, made life-long friends, became a ham radio operator and then in his 80's taught himself how to use a PC and enjoyed creating multi-media CD's, email and Skype. Above all, Carl loved life and his family, living independently in his own home to the end. He was a kind and loving man, respected by all who knew him.
He is survived by his three sons, C. Edward (Ted) and his wife Holly Hitchcock of East Providence, Donald L. Furtado of Rehoboth, MA and Peter B. Furtado and his partner Katie Kelley of Burlington, VT; grandson Thomas August of Fall River, MA; sister Vernice Grgurich of Crosby, MN; brother Robert Furtado of Fairhaven, MA and a close multi-generational family all of whom loved Uncle/Grandpa Carl! He is pre-deceased by his sister Eleanore Brown of Fairhaven, MA.
His funeral service will be held on Monday December 5, 2016 in the W. RAYMOND WATSON FUNERAL HOME, 350 Willett Avenue, Riverside at 11 a.m. Burial with Military Honors will follow in Forest Chapel Cemetery, Nayatt Road, Barrington. Calling hours are Sunday 3-6 p.m.
In lieu of flowers, donations may be made to the Philip Hulitar Hospice Center in recognition of the compassion, care and comfort they gave Carl in his final days.