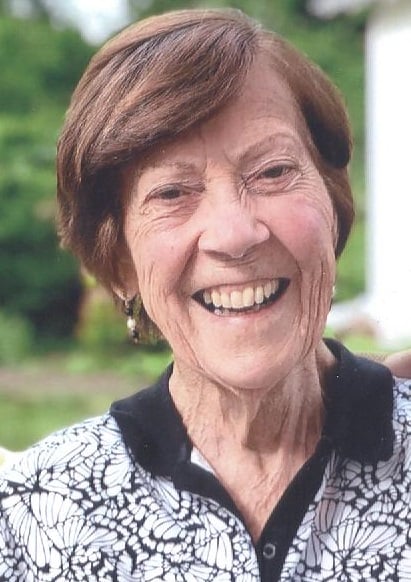 Date of Passing:
November 23, 2018
Catherine "Cathy" (DeRoche) Fitta, 81, passed away peacefully on November 23, surrounded by her loving family. She was the beloved wife of John J. Fitta, her husband of 56 years.
A resident of Barrington and Naples Florida, Cathy was born on November 18, 1937 in Providence, the daughter of the late James and Catherine (Fagan) DeRoche. A graduate of Saint Mary's Academy of the Visitation high school and the University of Rhode Island, she retired from Brown University where she was Executive Assistant to the Dean of the Graduate School.
Through the years, Cathy thoroughly enjoyed time spent with her bridge group and playing golf with the Barrington Bogies and the Glen Eagle women's league in Naples, where she was a member. She registered voters at the Barrington polling station as recently as the 2016 election, belonged to the Barrington Women's Club, and volunteered for Meals on Wheels during her younger years.
Cathy and John shared many beautiful memories of their life together and their travels within the US, Europe and China. Cathy loved her 56 years in Barrington, oftentimes noting how fortunate and happy she was to live there. Always there to greet you with a wonderful smile, Cathy was known to profess a number of often-repeated refrains like "There are no mistakes in life, just lessons" or "The bottom line is…" or "Are we having fun yet?" or "No one is here forever!". She enjoyed spending time maintaining her flowers and garden, but above all hosting and attending the many family gatherings for all occasions.
In addition to her husband, Cathy is survived by her son Kevin and his wife Maria and grandsons Julian and Gregory of Barrington; her son Jonathan and his wife Chris and granddaughter Olivia Catherine of Barrington; and her daughter Catherine "Kate" and her partner Cristiana Recanati and their daughter Brieanna Hayes of Brooklyn, NY. She is also survived by her sister Elizabeth "Betty" Isabella of North Providence and ten nieces and nephews. She was the sister of the late Anne Leamy, Geraldine Vatalaro and Mary Martin DeRoche.
Her funeral will be held on Thursday November 29, 2018 from the W. RAYMOND WATSON FUNERAL HOME, 350 Willett Avenue, Riverside at 7:45 a.m. with a Mass of Christian Burial in St. Luke Church, Washington Road, Barrington at 9 a.m. Burial will follow in Gate of Heaven Cemetery.
Calling hours are Wednesday 4-7 p.m. Flowers are respectfully omitted. Contributions in Catherine's memory to the Barrington TAPIN Program, 281 County Road, Barrington, RI, 02806 would be deeply appreciated.