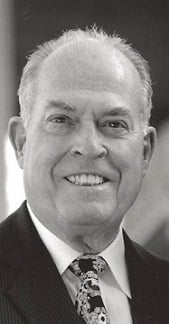 Date of Passing:
May 6, 2014
Collis, Charles Albert, 99, of Barrington, RI died on May 6, 2014. Charles Collis, son of Henry J. Collis and Anna J. Walker Collis, passed away peacefully at his home in Barrington, RI. He is survived by his wife, Elfriede A. Collis, his children, Frohman C. Anderson and wife Kimberley; Astrid C. Womble and husband Matt; daughter-in-law Lisa Anderson and seven grandchildren.
Born March 13, 1915 in Taunton, MA, Charles attended Huntington School in Boston, MA followed by Dartmouth College in Hanover, NH. After graduating from College in 1937, he started his own shoe company. From 1942-1963 he was co-owner of Armor Bronze and Silver Company, the largest manufacturer of copper and brass giftware in the world. In 1948, Charles Collis entered the direct selling industry, which became a national organization, as co-founder of Copper Craft Guild.
In 1963, Charles Collis established his own company, Princess House, Inc. which manufactures and sells hand-blown glass and giftware. He was owner of the Louie Glass Company of Westin, WV, the largest producer of hand blown glass in the country. Charles Collis was a pioneer in developing the direct selling industry. Princess House impacted the lives of tens of thousands of women by offering them a career choice and economic opportunity.
In 1977, Charlie received the 'Free Enterprise Man of the Year' award by the National Association of Manufacturers. In 1978, he received an honorary Doctor of Business Administration degree from Johnson and Wales University, Providence, RI. In 1979, he was named 'Entrepreneur of the Year' by both the New Bedford Chamber of Commerce and the Southeastern Massachusetts University College of Business and Industry. In 1981, Charles Collis was inducted to the Direct Selling Association Hall of Fame. In 1983, he was awarded an Honorary Doctor of Business Administration degree from Bryant College.
Giving back was very important to Charles Collis. He was a leading philanthropist who supported many charitable causes in education, childhood development, medicine, programs for the disadvantaged and the arts. Hundreds of scholarship recipients at many different learning institutions have benefited from his generosity. Charles Collis served as a trustee of Bryant College and was a former director of Shawmut First County Bank of Brockton; Direct Selling Association of Washington, D.C.; Robertson Factories of Taunton, MA; and Member of the Special Advisory Committee to the President of Dartmouth College.
His lifelong recreational enjoyment was boating, golf and fishing. His seven grandchildren were his pride and joy.
Calling hours will be held on Sunday, May 11th from 4:00 to 7:00 in the W. Raymond Watson Funeral Home, 350 Willett Avenue in Riverside. A Mass of Christian Burial will be celebrated on Monday, May 12th at 12:30 p.m. in St. Luke's Church, Washington Road in Barrington. In lieu of flowers, donations may be sent in memory of Charles Collis to Hasbro Children's Hospital, PO Box H, Providence RI 02901 and/or The Boys and Girls Club of Taunton, 31 Court Street, Taunton MA 02780.