Charles Benedict Greenwell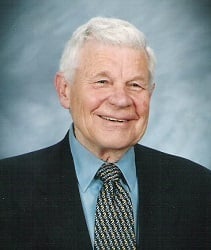 Date of Passing:
January 24, 2015
Charles Benedict Greenwell(DICK), 86, of Barrington passed away peacefully at his home on Saturday, January 24, 2015. He was the beloved husband of Marilyn (Feick) Greenwell for 57 years.
He was raised in Leonardtown, Maryland and was a son of the late C.B. and Florence (Daffron) Greenwell. Dick was a 1952 graduate of Univ. of Maryland and a member of Sigma Chi.
During WWII, he served in the Marine Corps as a member of the honor guard that was stationed at the US embassies in London and Paris.
After a 45 year career, he retired in 1994, as the national sales manager of Foamex Products, a former division of Firestone Tire and Rubber.
He was dearly loved by his daughters, Nancy (Kevin) Ryan of Barrington and Ellen (Haswell) Franklin of Baltimore, Maryland.
He was cherished by his grandchildren who were his heart and happiness; Jack, Haley, Libby (Ryan), Leslie, Mac, Luke and Drew (Franklin).
He is also survived by two brothers Robert Greenwell of Maryland and Andrew Greenwell of Virginia as well as many nieces and nephews. He was the brother of the late Barbara Anne Greenwell Barry of Milwaukee.
A Mass of Christian Burial will be celebrated at 10 am Friday in St. Luke Church, 180 Washington Road, Barrington. Burial with military honors will follow in Forest Chapel Cemetery. Visiting hours are at the W. RAYMOND WATSON FUNERAL HOME, 350 Willet Avenue, Thursday, (4-7 pm). In lieu of flowers, donations may be made to Home and Hospice Care of Rhode Island, 1085 North Main Street, Providence, RI 02904.