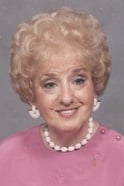 Date of Passing:
June 12, 2016
Barrette, Claire, M., 93, of Cottage Street, Warwick, died peacefully on June 12, 2016.
Born in Warwick, she was the daughter of the late Aldridge and Laura (Audette) Barrette.
Claire was a telephone operator for General Electric for many years.
She is survived by her nephew, Ronald J. Resmini.
Her funeral service was private. Burial was held in St. Ann Cemetery, Cranston.