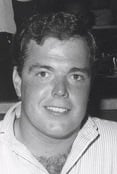 Date of Passing:
January 24, 2016
Howell, Dan, H., 60, of Bristol, died unexpectedly on January 24, 2016 surrounded by his loving family at Charlton Memorial Hospital, Fall River, MA.
Born in Providence, a son of the late Kenneth C. and Catherine L. (Holt) Howell, he lived in Bristol for 20 years, Fall River, MA for eight and previously resided in Seekonk, MA.
Mr. Howell was the owner and operator of the Golden Goose Delicatessen, Bristol for 20 years before retiring due to illness. He enjoyed going to the beach, cooking, networking and had a handy flair for interior dcor.
He is survived by two sons, Dan H. Howell Jr. of Barrington and Peter K. Howell of Bristol; a daughter, Hannah E. Howell of Woonsocket; two sisters, Kathleen Spagnolo and her husband Anthony of Seekonk, MA and Jane Chiariello and her husband Andrew of Rumford; three brothers, Kenneth C. Howell Jr. and his wife Catherine of Narragansett, Albert E. Howell of Houston, TX and Thomas E. Howell and his wife Ellen of Jay, VT; a longtime companion, Colleen Cordeiro of Fall River, MA; several nieces and nephews and several grand nieces and nephews.
His funeral service will be held on Wednesday January 27, 2016 in the W. RAYMOND WATSON FUNERAL HOME, 350 Willett Avenue, Riverside at 7 p.m. Calling hours are 4-7 p.m.