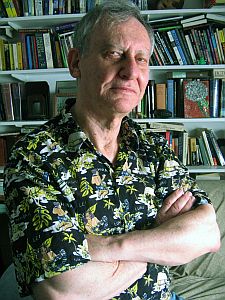 Date of Passing:
February 18, 2013
Pearlman, Daniel, D., 77, of Blackstone Blvd., died unexpectedly on February 18, 2013. He was the beloved husband of Sandra Lee (Plewniak) Pearlman.
Born in Brooklyn, NY, a son of the late Hyman and Sallie (Gerschgal) Pearlman, he lived in Providence for 29 years.
Mr. Pearlman was a Professor of Creative Writing at the University of Rhode Island where he taught for 25 years. He also was a professional short story and fiction writer while teaching and in his retirement. He was a member of the Science Fiction Writers of America. He enjoyed weight lifting for the past 20 years.
Besides his wife of 37 years, he is survived by a daughter; Alison Pearlman of Los Angeles, CA, two sisters; Lorraine Baruch of Catawissa, PA and Ellen Kommel of Dix Hills, NY and two brothers; Myron Pearlman of Cranbrook, NJ and Larry Pearlman of Long Island, NY.
A Memorial Service will be held at a date and time to be announced.