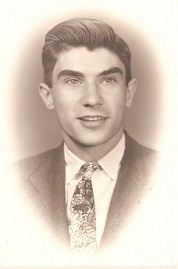 Date of Passing:
November 1, 2012
YOUNG, David Watson, Jr.,82, of East Providence, born in Newark, NJ, a son of David W. Young, Sr. and Mary McKay Young. He was the husband of Sarah (Bearman) Arruda Young and the late Betty May (Flowers) Young.
He lived in Barrington for many years. Father of Carol L. Westberg (David), of Cranston, David G. Young of Irasburg, VT, Jane E. Brown (Andy) of South Kingstown and Robert E. Young, also of South Kingstown. He was the stepfather of Michael (Gabrielle) and Jason Arruda and Michelle England (Israel). He was the grandfather of Virginia Dutra, Kelly May Young, Ethan Young Brown, Kyle Flowers Brown, Rylie and Abigail England. Great grandfather of Mason and Liam Dutra, and Patrick Young. David was the brother of the late Robert E. Young and the late Isabella McKay (Young) Kerr.
He worked for New England Telephone & Telegraph as a cable splicer and enjoyed being a ham radio operator. He was an All New England Cross Country runner for East Providence High School. He served in the United States Marine Corps from 1951-1959.
David will be greatly missed. There will be a private graveside service held at Prince's Hill Cemetery in Barrington.