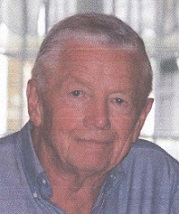 Date of Passing:
October 22, 2014
Alden, Donald, F., 87, of Barrington, passed away on Wednesday October 22, 2014, surrounded by his loving family at the Philip Hulitar Hospice Center in Providence, RI. He was the beloved husband of Eunice M. (Smedberg) Alden for 60 years and the son of the late Rev. Arvid W. and Hildur P. (Johnson) Alden.
Born in Cokato, Minnesota in 1927, Don moved with his family to Rhode Island, where he attended Classical High School and graduated from Brown University in 1949. He later earned an MFA in Fine Arts at the Art Institute of Chicago. He served in the U.S. Army, receiving an honorable discharge in 1946. Don had a long and successful career in art and design, first with an advertising firm in Chicago and then as Art Director for 28 years with the Providence Journal newspaper in Rhode Island, designing and illustrating portraits for the Rhode Islander magazine. His artwork and designs were featured at the Seattle World's Fair in 1962 and the New York World's Fair in 1964.
Don was a devout member of the Evangelical Covenant Church of Riverside, RI. In 1968 he helped to lead the Church's move from Providence to a new building in Riverside, where he designed a number of the stained glass windows and assisted with the design of the sanctuary roof. He was also active in various boards and ministries at the church, including the Men's Chorus.
Don was also an avid golfer, runner and loving husband, father and grandfather. He played baseball at Brown, where he pitched a no-hitter and also played against George H.W. Bush in a Yale vs Brown game. As a golfer, he played several times a week into his eighties and even scored a hole-in-one. As a runner, Don participated in numerous road races and frequently won his age group, even into his late 70's. He especially enjoyed family gatherings with his children and grandchildren.
In addition to his wife, Don is survived by his daughter Lynne M. Goodale and her husband, Paul, children Kyle, Christopher, Eric and Kira Goodale of Barrington, RI and his son, Donald, and his wife Gail, children Avery and Marie of Lincoln, MA. He was the brother of Vernon R. Alden of Lincoln, MA, the late Burton Alden of San Diego, CA and the late Janet Shinstrom of Kirkland, WA.
A memorial service will be held on Saturday November 8, 2014 at 11:00 am at the Evangelical Covenant Church of Riverside, 165 Rounds Ave., Riverside, RI. In lieu of flowers, contributions in Don's memory to a memorial fund at the Evangelical Covenant Church of Riverside would be appreciated. Arrangements are under the direction of the W. RAYMOND WATSON FUNERAL HOME, Riverside.