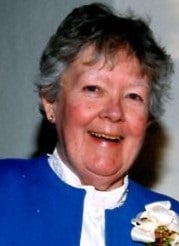 Date of Passing:
December 24, 2016
Donna M. Armour, 78, formerly of Riverside, passed away on December 24, 2016, after a sudden illness. Donna was the daughter of Reginald and Mary ('Mae') Armour and resided in Pawtucket until 1983, when she and her long-time best friend Carol A. White pooled their resources to purchase a home in Riverside. Donna graduated from the St. Joseph School of Nursing in 1959 and then received her bachelor's degree from Boston College. She pursued her long-lasting career as a RN and supervisor with the Visiting Nurses Association of Rhode Island. Donna retired from her supervisory position with the Visiting Nurses Association in Kent County to help care for her beloved goddaughter Dylan Brekka when she was born in 1995.
Donna was known for her many talents and endless creative projects and activities. There was nothing she couldn't accomplish with a glue gun, sewing or embroidery needle, hammer and nails, or wooden spoon and spatula, to name but a few items. In addition, Donna and Carol co-founded a home-based business named The Quiet Garden, specializing in herbs and dried and silk floral arrangements. Together they avidly gardened and crafted, and travelled to England, Maine, Cape Cod, and Penn Dutch Country when work allowed.
In addition to her beloved friend and 'sister' Carol and 'granddaughter' Dylan, Donna leaves behind her 'niece', Pamela Woodcock Pfeiffer and husband Mark A. Pfeiffer, all of whom were by her side within an hour of her unexpected passing. Donna was a joy in their lives and that of many others she knew during her lifetime, and there are many homes still graced with her gifts of needle and fabric arts.
They would like to thank the staff of St. Elizabeth's Manor in Bristol for their care, and caring, of Donna for the last two years of her life as she contended with Alzheimer's Disease. Services will be private. Memorial contributions in Donna's name to St. Elizabeth Manor's Activity Fund, One Dawn Hill Road, Bristol, Rhode Island, 02809, are certainly welcomed.