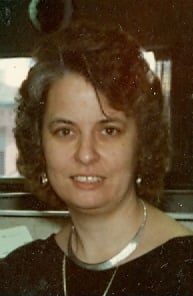 Date of Passing:
June 17, 2010
Reed, Donna, M., 63, of Frederick Street, Rumford, died peacefully on June 17, 2010 at home surrounded by her loving family after one hell of a courageous battle with cancer. She was the beloved wife of Walter C. Reed.
Born in Pawtucket, a daughter of the late William J. and Julia (LaStarza) Thornton, she lived in Rumford for 43 years.
Mrs. Reed was a customer service representative at AT&T for 15 years before retiring in 1996. She enjoyed spending time with her grandchildren.
Besides her husband of 45 years, she is survived by a son; Robert W. Reed of Seekonk, MA, a daughter; Donna A. Beaulieu of North Providence, two sisters; Sandra Coppolino of Pawtucket and Patricia Holgate of Warwick, three grandchildren; Dennis Beaulieu, Sarah and Matthew Reed and several nieces and nephews. She was the grandmother of the late Amanda Reed.
Her funeral will be held on Monday June 21, 2010 from the W. RAYMOND WATSON FUNERAL HOME, 350 Willett Avenue, Riverside at 9 am with a Funeral Service in Newman Congregational Church, Newman Avenue, Rumford at 11 am. Burial will follow in Rumford Cemetery. Calling hours are Monday morning 9 am- 10 am.