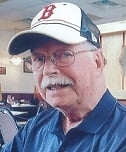 Date of Passing:
February 17, 2016
Tirrell, Douglas, L., Sr., 83, of West Street, Barrington, died peacefully on February 17, 2016 surrounded by his loving family. He was the beloved husband of Rosemary (Borges) Tirrell and the late Priscilla (Hicks) Tirrell.
Born in Washington, DC, a son of the late Thomas and Margaret (Lang) Tirrell, he lived in Barrington for 40 years.
Mr. Tirrell was a salesman for the Regency Cigar Shop, Barrington for the past 10 years. He formerly was a skilled hand engraver.
Douglas was a member of the Riverside American Legion Post #10 and he enjoyed golfing and cigars.
Besides his wife of 35 years, he is survived by his children, Donna L. Tirrell of Pascoag, Douglas L. Tirrell Jr. and his wife Linda of Cranston, Lynn E. Moran and her husband Thomas of North Scituate, Stephen L. Tirrell of Harrisville, Paul A. Tirrell of Lincoln and Jennifer Normandin of Barrington; his brothers and sisters, James Tirrell, Ruth Greene, Faye Branham and Jackie Tirrell, all of Virginia; a step-mother, Lucille 'Granny Lu' Miller of Virginia and ten grandchildren. He was the brother of the late Thomas and Joanne Tirrell.
His funeral service and burial will be private.