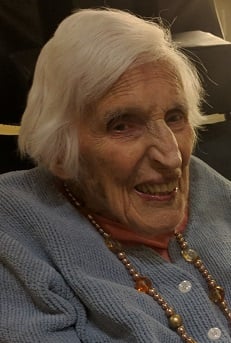 Date of Passing:
December 19, 2018
Mary Bertucio Arnold was born on September 29, 1924 in Fitchburg, Massachusetts to George and Louise Bertucio both second generation Italian immigrants from Liguria. She was educated at Abbott Academy and Vassar College, where she was affectionately referred to as "Bert" and captained the golf, lacrosse and tennis teams. In 1950, she graduated cum laude from the University of Vermont medical school and was proud to have been at the top of her class in a close tie with the only other woman in the class. After internship and residency training in Pediatrics at Hartford Hospital and the Babies Hospital at Columbia-Presbyterian Medical Center, she completed her fellowship in Pediatric Endocrinology at the Massachusetts General Hospital.
It was during her residency and fellowship that she met, fell in love with and ultimately married John Hampton Arnold who was a Pediatrician and Infectious Disease specialist who had trained with Nobel Laureate John Enders. She began her academic career at the University of North Carolina and in 1966 joined the faculty at the newly established Brown University Program in Medicine where she would spend the remainder of her professional career. Her hospital appointments included Director of Pediatric Endocrinology at Rhode Island Hospital and Chairman of the Department of Pediatrics at Roger Williams General Hospital. Among a multitude of committee memberships and administrative appointments, she was a founding member of the Lawson Wilkins Pediatric Endocrine Society and served on the Board of Trustees at the Providence Country Day School as well as the Corporation of the St. Andrew's School. She was an active member of the American Medical Women's Association and in 1996 was named the RI Medical Women's Association Woman Physician of the Year. She authored over 15 original publications in prestigious, peer-reviewed journals and participated in numerous multicenter clinical research studies. Her greatest impact on academic medicine revolved around her energetic teaching activity in the Integrated Medical Sciences at Brown University and her mentorship of young faculty as the Director of the Division of Pediatric Endocrinology. Her generous spirit combined with a wealth of clinical experience, a meticulous approach to the physical examination as well as the art of differential diagnosis were a model for the young clinicians with whom she interacted
After the premature death of her husband, Dr. Arnold continued to pursue her academic medical career while successfully raising her three sons John, Mark and Matthew, who at the time were unruly adolescents. She was promoted to Associate Professor of Pediatrics at the Brown University School Medicine in 1974 while preparing heaping breakfasts and dinners for her hungry family. Her ability to pursue a noteworthy career in academic medicine as well as successfully parent three energetic teenagers amazed at the time and continues to comprise an unforgettable legacy. Affectionately known to her grandchildren as Nina, Noonsy, or Nooner, she was always an attentive, funny, intelligent, affectionate and perfectly irreverent Grandmother. She is survived by her three sons, their loving wives (including two loving ex-wives), six grandchildren, and one great grand-daughter and one great grand-son. Her family retains the precious memories of her competitiveness, intelligence, and resilience during multiple family trips to the town of New Shoreham on Block Island.
Friends, family and colleagues are invited to a memorial service at Manning Chapel on the Brown University campus at 1 PM on March 10. In order to honor Mary's devotion to teaching and mentorship, please consider a gift to the Mary B. Arnold Mentor Fund at the Warren Alpert Medical School at Brown University. For further information please contact Bethany Solomon at [email protected] or 401-863-1635.