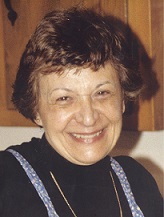 Date of Passing:
October 7, 2014
Chisholm, Edith J., RN, 88, passed away peacefully on October 7, 2014. She was the beloved wife of Vincent Chisholm. They were happily married for 60 years. Born in Bristol, she was the daughter of the late Nicholas and Chrisitine Abatantuono. She moved to Barrington 85 years ago.
Mrs. Chisholm was a graduate of the Newport Hospital School of Nursing class of 1948. She also graduated from URI with a Master's degree in nursing class of 1977. She participated in conducting a research program for the treatment of psychiatric patients at the VA medical center. She retired in 1984 and traveled to Europe, Canada and throughout the US with her husband Vincent. She was an excellent cook and a thirty year member of a gourmet group. Beside her husband Vincent, she leaves a loving daughter Christine her son Daniel and his wife Lynne, her son Robert and his wife Ellen Polansky, her son Bill and his husband Billy Powers, and six wonderful grandchildren Audrey and Margot Chisholm, Amanda, Mike and Mark Chisholm, and Katerina Sherrick. She was the sister of Josephine Murgo of Bristol and the sister of the late Ann McCall of Ohio, and the aunt of Kathleen Davis of Florida who lived with her for many years
Her funeral will be held on Friday October 10, 2014 from the W. RAYMOND WATSON FUNERAL HOME, 350 Willett Ave, Riverside at 8:45 a.m. with a Mass of Christian Burial in St. Luke Church, 108 Washington Road, Barrington at 10 a.m. Burial will follow in the Santa Maria Del Campo Cemetery, Upland Way.
Calling hours are Thursday 4-8 p.m. Flowers are respectfully omitted. Contributions in Edith's memory to the Carmelite Monastery, 25 Watson Avenue, Barrington, RI, 02806 or St. Luke Church, 108 Washington Road, Barrington, RI, 02806 would be deeply appreciated.