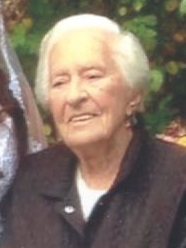 Date of Passing:
November 23, 2019
Feld, Edith M., 104, of Forbes Street, Riverside, died peacefully on November 23, 2019. She was the wife of the late Calvin C. Feld.
Born in Preston, England, a daughter of the late William and Annie (Redford) Sumner, she lived in East Providence for 16 years previously residing in Port Orange, Florida and Pawtucket.
Mrs. Feld was a bookkeeper for the National Ring Traveler for 35 years before retiring in 1980.
She is survived by a daughter, Judith A. McNulty and her husband Thomas of Riverside; three grandsons, Sean McNulty of East Providence, Ian McNulty and his wife Katelyn of East Providence and Shane McNulty and his wife Sianna of Warwick and five great grandchildren. She was the mother of the late Carl W. Schmidt and grandmother of the late Carla Schmidt.
Relatives and friends are invited to attend Calling Hours on Tuesday November 26, 2019 from 4-7 p.m. in the W. RAYMOND WATSON FUNERAL HOME, 350 Willett Avenue, Riverside. Burial will be held in the Rhode Island Veteran's Memorial Cemetery, Exeter.