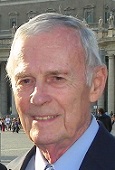 Date of Passing:
December 22, 2016
Creamer, Edward J., 88, of Atria Bay Spring, formerly of Oswald Street, Pawtucket, passed away peacefully on December 22, 2016 surrounded by his loving family. He was the loving husband of the late Lorraine I. (Rondeau) Creamer. They were married for 58 years.
Born in Pawtucket, a son of the late George A. and Marie (Lemoine) Creamer, he lived in Barrington for 3 years previously residing in Pawtucket.
Ed graduated from St. Raphael Academy Class of 1946. He received a Bachelor of Business Administration Degree from Bryant University and Master's Degrees in Library Science and Public Administration from the University of Rhode Island.
Mr. Creamer was the Business Administrator for the Pawtucket School Department for over 30 years, with the school administration building named in his honor after his retirement. Upon his retirement from the Pawtucket School Department he became Business Administrator in the Catholic School Office of the Diocese of Providence assisting Catholic schools in financial matters.
He was a member of a number of professional education associations including; American and Rhode Associations of School Administrators, American and Rhode Island Associations of School Business Administrators and Independent School Administrators of Rhode Island.
He served on a number of Catholic School Boards including; St. Raphael Academy, Bishop Keough Regional School, Msgr. Matthew Clark School and the Providence Collaborative. He was a Steward of St. Peter of The Papal Foundation.
Edward was active in St. Teresa Parish for over 50 years, serving as Trustee, Lector and Eucharistic Minister. He was also a member of the Finance Committee, Building Committee and School Board.
Mr. Creamer was a sergeant in the U.S. Army serving in Germany during the Korean War period.
Edward loved time with his close family most of all. He was devoted to being a loving husband, father, grandfather, son, brother, uncle and friend. He had a strong Catholic faith and was a devoted servant of the Church. He was always a true gentleman.
He is survived by three sons, David E. Creamer and his wife Claire of Seekonk, MA, Glenn M. Creamer and his wife Mary Jane of Barrington and Keith P. Creamer of Boston, MA and six grandchildren, Andrew, Tanya, Lara, Tyler, Margot and Teddy Creamer. He was the father of the late Kris M. Creamer and brother of the late Teresa King.
His funeral will be held on Monday December 26, 2016 from the W. RAYMOND WATSON FUNERAL HOME, 350 Willett Avenue, Riverside at 8:30 a.m. with a Mass of Christian Burial in St. Luke Church, 108 Washington Road, Barrington at 10 a.m. Burial will be held in Mount St. Mary Cemetery, Pawtucket.
Calling hours and flowers are respectfully omitted. Contributions in Edward's memory to St. Teresa School, 140 Woodhaven Road, Pawtucket, RI, 02861 would be deeply appreciated.