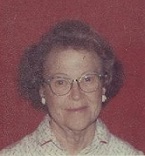 Date of Passing:
July 20, 2015
Muncy, Eileen, H., (Hird), 96, of Kent Avenue, died peacefully on July 20, 2015 surrounded by her loving family. She was the wife of the late William S. Muncy.
Born in Hartford, CT, a daughter of the late George W. and Edith A. (Webb) Hird, she lived in East Providence for 25 years previously residing in Barrington for 12 years.
Mrs. Muncy was a graduate of the Henry Benard School and Hope High School Class of 1938.
Eileen was the former secretary for the Barrington Republican Women's Committee Council. She was a former member of the Grace Church, where she sang in the choir and rang the bells for the Sunday School. She enjoyed gardening, sewing and painting.
She is survived by a daughter, Ann M. Muncy of East Providence; a son, William H. Muncy of East Providence; a niece and three nephews. She was the sister of the late Stenson Hird.
Her funeral service will be held on Wednesday July 29, 2015 in the W. RAYMOND WATSON FUNERAL HOME, 350 Willett Avenue, Riverside at 12 noon. Burial will follow in Swan Point Cemetery. Calling hours are Tuesday 2-4 p.m.