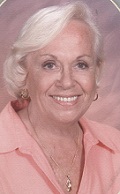 Date of Passing:
April 20, 2016
Fiske, Elenore G., (Schroder), 81, of Barrington, died peacefully at home on April 20, 2016 surrounded by her loving family. She was the wife of the late Fred Fiske.
Born in East Providence, a daughter of the late Andrew and Emily (Jakobsen) Schroder, she lived in Barrington for 50 years.
Mrs. Fiske worked hard as a co-owner in her family business Schroder's Delicatessen, Riverside for over 30 years. She was a graduate of East Providence High School Class of 1952.
Elenore was a member of the Barrington Baptist Church and its Quilting Plus Club. She was a volunteer for the Barrington Tap-In Program from 1989 till present. She was a former member of the Barrington Garden Club.
Elenore enjoyed cooking, gardening, knitting, caring for and spending time with her loving family.
She is survived by a daughter, Kimberly S. Whyte and her husband Doug of Barrington; two sons, Jerry T. Fiske and his wife Cindy of Barrington and Eric E. Fiske and his wife Marsha of Westerly; a sister, Esther Corey of Missouri; 13 grandchildren; 3 great grandchildren and a daughter-in-law, Terrie Munroe Fiske of Barrington. She was the mother of the late Gregory A. Fiske and sister of the late Andrew Schroder, A. Stanley Schroder and Mabel Schroder.
A private family burial will be held in Forest Chapel Cemetery, Nayatt Road, Barrington.