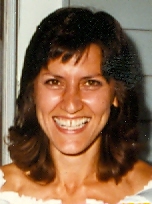 Date of Passing:
March 16, 2011
Wahl, Elizabeth, Brathas, 57, of Riverside passed away on March 16th at Rhode Island Hospital after a short but brave battle with Leukemia. She is survived by 6 brothers and sisters and 7 nieces and nephews. She dedicated her life to her children, Joseph, Elissia, and Jacob.
Elizabeth was born in Pyrgos, Elias, Greece on September 6th, 1953 and emigrated to America by sea with her family at the age of 6. She grew up and went to school in Attleboro, Massachusetts. She moved to Riverside in 1973 with the love of her life, the late Joseph L. Wahl, where they joyously raised their family in their home on the shores of upper Narragansett Bay. The home they built together served as a gathering place for many friends and family throughout the years.
Elizabeth was instrumental in the advancement of women's rights in RI and achieved regional recognition for being the first female construction laborer in RI.
Elizabeth was a patron, donor, and curator of the Assumption Greek Orthodox Church where she donated much of her free time beautifying the church grounds, in memory of her late mother and father, Demitra and Nicholas Brathas. Her kindness, unconditional love, compassion, and dedication to her family, friends, and church will live on and be celebrated by everyone who knew her.
Calling hours will be held on Monday March 21, 2011 in the W. RAYMOND WATSON FUNERAL HOME, 350 Willett Avenue, Riverside from 5pm-8pm. A service will be held at the Assumption Greek Orthodox Church, 97 Walcott Street, Pawtucket, on Tuesday, March 22nd at 10am. In lieu of flowers, donations should be made to the 'Elizabeth Brathas Wahl Beautification of the Church Grounds Fund', c/o The Assumption Greek Orthodox Church, 97 Walcott Street, Pawtucket, RI, 02860. A reception will be held immediately after the Church service in its community center.