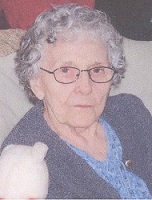 Date of Passing:
July 29, 2015
Rusin, Elizabeth, D., 95, formerly of Carousel Manor Drive, Riverside, died peacefully on July 29, 2015 at Mt. St. Rita's Health Center, Cumberland. She was the wife of the late Henry Pankowski.
Born in Westport, MA, a daughter of the late Leroy and Annie Pettey, she lived in Riverside for 28 years.
She is survived by a son, Raymond Rusin of Woonsocket, a grandson, Jason Allen Rusin and three great grandchildren.
A graveside burial will be held in Maple Grove Cemetery, Westport, MA.