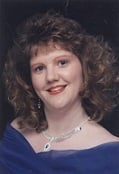 Date of Passing:
September 18, 2015
Adamson, Ellen, M., (Tirrell), 53, of Woodland Drive, died unexpectedly on September 18, 2015.
Born in Providence, a daughter of the late Richard W. and Mary L. (Lilly) Tirrell, she lived in Coventry for 23 years.
Mrs. Adamson was a travel agent for Norwegian Cruise Lines, Donovan Travel, American Express Travel and New England Travel for 23 years.
Ellen was a graduate of C.C.R.I. She enjoyed reading, traveling and watching movies.
She is survived by a son, Sean T. Adamson of Coventry; a daughter, Jennifer Rose Adamson of Coventry; three sisters, Anne L. McLaughlin of Warwick, Elizabeth J. Nickerson of Riverside and Virginia F. Cavallaro of Seekonk, MA; five brothers, Peter C. Tirrell of Foster, Donald E. Tirrell of Riverside, Phillip L. Tirrell of Riverside, James R. Tirrell of East Providence and William R. Tirrell of Riverside and several nieces and nephews.
A Celebration of her Life will be held on Saturday September 26 in the W. RAYMOND WATSON FUNERAL HOME, 350 Willett Avenue, Riverside at 3 p.m. Calling hours are 1-3 p.m. Burial will be private.
Flowers are respectfully omitted. Contributions in Ellen's memory to the East Bay Center, 2 Old County Road, Barrington, RI, 02806 would be deeply appreciated.