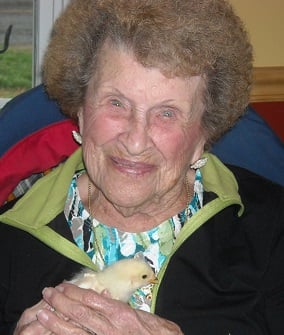 Date of Passing:
March 16, 2019
Curren, Estelle A., 105, formerly of Riverside Drive, Riverside Terrace, Riverside, died peacefully on March 16, 2019 surrounded by her loving family. She was the wife of the late George R. Curren.
Born in Central Falls, a daughter of the late Telesphore J. and Amanda (Marcil) Blais, she was a lifelong resident of Riverside.
Mrs. Curren was a jewelry worker for the former Trifari Jewelry Mfg. for 10 years before retiring in 1993.
Estelle enjoyed camping, traveling, boating, playing bingo and cards and spending time with her family and friends.
She is survived by two sons, William E. Curren (Ret. E.P.F.D.) and his fiance Donna Bishop of Rehoboth, MA and G. Raymond Curren Jr. of Stuart, VA; four grandchildren, seven-great grandchildren and one great great granddaughter. She was the sister of the late William Blais, Jeannette Dumay and Edna Madigan.
Her funeral service will be held on Wednesday March 20, 2019 in the W. RAYMOND WATSON FUNERAL HOME, 350 Willett Avenue, Riverside at 10 a.m. Burial will follow in Gate of Heaven Cemetery. Calling hours are Tuesday 4-8 p.m.