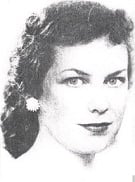 Date of Passing:
December 25, 2015
Alden, Eunice, M., (Smedberg), 90, of Barrington, passed away peacefully on Christmas day 2015 at the Philip Hulitar Hospice Center in Providence. She was the beloved wife of the late Donald F. Alden for 60 years, with whom she is now reunited in their Heavenly Home. 'Eunie' was born on February 15, 1925, in Providence, RI, the daughter of the late Aron Paul and Hilda M. (Erickson) Smedberg.
As a young girl growing up in the Depression, Eunice delivered newspapers on one of the larger paper routes in Riverside. She graduated from East Providence High School in 1943 and was employed as a department supervisor at Providence Gas Co. for ten years before her marriage in 1954. She then moved to Chicago, Illinois and began married life with her husband, Don.
Eunice was a loving wife, mother and grandmother and passed along her baking and cooking talents to her children. She was famous for her rice custard pudding and Swedish Spritz cookies, among other recipes from her Swedish heritage. She was a woman of strong faith and a devout member of the Evangelical Covenant Church of Riverside, RI, where she served as a deaconess, sang in the choir and was a member of the Serving Committee and Covenant Women's group. Throughout the years, Eunice quietly and steadfastly provided dinners and baked goods at numerous Church events. She especially enjoyed family gatherings, having fun and sharing her spontaneous humor with her children and grandchildren.
Eunice is survived by her daughter, Lynne M. Goodale, and her husband, Paul, of Barrington, RI, and her son, Donald, Jr., of Lincoln, MA, as well as six grandchildren, Kyle, Christopher, Kira and Eric Goodale and Avery and Marie Alden. She is also survived by her older brother, Milton J. Smedberg of Cheshire, CT, and was the sister of the late Paul E. Smedberg and the late Robert J. Smedberg of East Providence.
A Celebration of her life will be held on Saturday March 19, 2016 at 11:00 a.m. at the Evangelical Covenant Church of Riverside, 165 Rounds Ave., Riverside, RI. In lieu of flowers, contributions in Eunice's memory to a memorial fund at the Evangelical Covenant Church of Riverside would be appreciated.