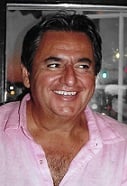 Date of Passing:
March 25, 2016
Felix H. Maez, Jr, age 63, passed away at his home in Middletown, RI on Friday, March 25th2016.
Felix was preceded in death by his parents Felix H. Maez, Sr. and Lucienne J. (Huet) Maez,his younger brother John Dominic Maez, and his older sister Jeannette (Maez) Tribble. Felix is survived by his loving wife Kim Williams Maez, his sisters Michelle Houghton of Warwick, RI, and Joanne Jopplin of League City, Texas, and his brothers James Stanley Maez of League City, Texas, and Paul Eric Maez of Santa Rosa, CA.
Felix (Phil) was born on July 4th, 1952, in Pueblo, CO, to Felix H. Maez, Sr. and Lucienne Maez. Felix Sr. was a WWII veteran and a lifelong civil servant. Lucienne was a homemaker and primary caregiver to their seven children. Felix was the fourth child, the first son, and his earlylife included stops in Germany, Alabama, Texas, Wisconsin, Rhode Island, and Colorado among others as they lived life attached to the military. He attended High School in Coventry, RI and then moved on to the University of Rhode Island, graduating with a degree in Business in 1974.
Felix had a colorful and highly successful career in business, starting in sales with Heublein, Inc.,from 1976-1984 then R.J.R. Nabisco/Del Monte from 1984-1986. His early business successes led to him becoming Co-Owner and Member of the Management Team and Vice President of Sales for Celestial Seasonings in Boulder, CO, in 1986-1995. He was later President & CEO of Fantastic Foods from 1995-1997. That and other successes eventually led to him being named President and CEO of Boericke and Tafel, a natural remedy manufacturer and distributor, in Santa Rosa CA, from 1997-2003. His later accomplishments include COO at Thai Kitchen, CEO at Zola beverages, and President and CEO of his own consulting firm, Tioga Management.
Felix was a visionary leader in sales, marketing, and product development. However, his proudest accomplishments were the mentoring of many now prominent business individuals along his path, as he was very passionate about giving back.
His hobbies and interests included travel, reading, music, photography and cooking and multiple church volunteer activities. He had a great love of nature and animals, especially dogs.
A Memorial Service will be held at Emmanuel Church, 42 Dearborn Street, in Newport, RI, 02840, on April 7, 2016 at 2:30 pm. In lieu of flowers, contributions should be made to Emmanuel Church.