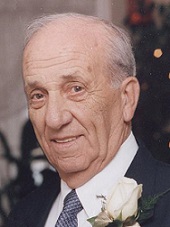 Date of Passing:
May 5, 2014
Florenzano, Frank, J., Jr., 88, of Anoka Avenue, died peacefully on May 5, 2014 surrounded by his loving family. He was the husband of Anna (Calitri) Florenzano.
Born in Bristol, a son of the late Frank J. Florenzano Sr. and Madeline (Aronne) Florenzano, he lived in Barrington most of his life.
Mr. Florenzano was employed by Catholic Cemeteries for 22 years and was a union steward. After his retirement he spent many caring years working with his daughter's business, Daisy Dig'ins.
Frank was a communicant of Holy Angels Church.
Mr. Florenzano was a United States Army Veteran serving during World War II.
Besides his wife of 63 years, he is survived by a daughter, Lois Coppolino and her husband Louis; a son, Frank J. Florenzano and his wife Rosemary; a granddaughter, Cristen Coppolino and her fianc Adam Smith; a grandson, Marc L. Coppolino and his wife Gina and two sisters, Rose Ruggieri and Ida Grimo. He was the father of the late Wendy Florenzano and brother of the late Alphonse, Joseph and Louis Florenzano and Mary DiPierro.
His funeral will be held on Monday May 12, 2014 from the W. RAYMOND WATSON FUNERAL HOME, 350 Willett Avenue, Riverside at 9 a.m. followed by a Mass of Christian Burial in Holy Angels Church, Maple Avenue, Barrington at 11 a.m. Burial with Military Honors will follow at Santa Maria del Campo Cemetery, Upland Way, Barrington.
Calling hours will be on Monday morning from 9-10 a.m. Contributions in Frank's memory to Holy Angels Church, 341 Maple Avenue, Barrington, RI, 02806 would be deeply appreciated.