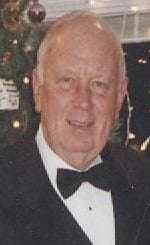 Date of Passing:
May 14, 2013
Fiske, Fred, Byron, 82, of Sixth Street, died peacefully on May 14, 2013 after a very long journey with Alzheimers. He was the beloved husband Elenore 'Ellie' (Schroder) Fiske for 59 years.
Born in Rumford, he was the son of the late Edward and Anna (Olson) Fiske. He was the father of Gregory Fiske and his wife Terrie of Barrington, Jerry Fiske and his wife Cindy of Barrington, Eric Fiske and his wife Marsha of Westerly, Kimberly 'Kim' Whyte and her husband Douglas of Barrington, thirteen grandchildren; Tyler, Jordan, Connor, Andrew, Aaron and Noah Fiske, Sarah, Haley, Lizandra and Katelyn Fiske, Kirsten, Jennifer and Kelly Whyte, two great grandchildren; Lilya and Eleanor 'Ella' Fiske, two brothers; Roy and Norman Fiske of Smithfield, a sister; Barbara White of North Smithfield and one loyal feline friend; Emily, who was always with him during his illness.
Fred will always be remembered as a generous, kind and hardworking man full of compliments. He founded Anchor Insulation Co. in 1980 and passed the business on to his four children who now have five offices in three states. During his career when Fred had time he enjoyed spending it with his family and friends on his boat, 'The Downeaster'. Upon his retirement he enjoyed playing golf.
Mr. Fiske was a United States Coast Guard Veteran. He was a past member of Rhode Island Country Club, The Massasoit Gun Club and The Barrington Yacht Club.
His funeral service will be held on Saturday June 1, 2013 in the Barrington Baptist Church, Old County Road, Barrington at 3 pm. Calling hours and flowers are respectfully omitted. Contributions in Fred's memory to The Faith Hope Baptist Church, c/o Pastor Davis, 93 Standwood Street, Providence, RI, or Hospice VNS of Newport and Bristol Counties, 1184 East Main Road, Portsmouth, RI, 02871 or Providence Rescue Mission, c/o Sean Carew, 627 Cranston Street, Providence, RI, 02407 would be deeply appreciated. Arrangements are by the W. RAYMOND WATSON FUNERAL HOME, Riverside.