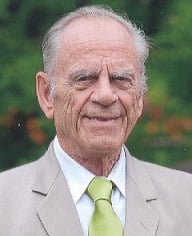 Date of Passing:
April 30, 2014
Chick, Frederick, Pike, 'Bud', 86, of Sachem Rd., Barrington, RI. died on April 12, 2014. He leaves his loving wife of 21 years, Patricia Chamard Gill, and his devoted sister, Charlotte Hurley of Portland, ME. He was pre-deceased by his wife of 41 years, Patricia Holmes, Acton. MA . Born in Cornish, ME, he was the son of the late Earle L. and Lillian A. Chick. He is survived by three daughters and a son: Carolyn Smith, Palm Coast, Fla., Marianne Gatchell, Chelsea, MA. Melissa Perrone & husband Rich, Terryville, CT., and Frederick P. Chick III and wife, Elaine, Amherst, NH. He was 'Poppy' to granddaughters Taylor, Emma and Hannah Chick.
Proud great grandfather of Colin John Thomas, son of granddaughter, Allison Gatchell Thomas and husband, Darren. He is also survived by stepsons, James Chamard, his wife, Roseanne of San Ramon, CA. and Thomas Chamard and wife, Amy, Portsmouth, RI. He was 'Grandpa Bud' to Mary, Zachary, Madeline and Sara Chamard.
Graduated from So. Portland High School. Served in the US 8th Army, European Theater.. Earned BS degree in Mechanical Engineering at the University of Maine, Orono 1951..
He was Sales Mgr. with York Engineering , specializing in HVAC products, retiried in 1992.He was an avid reader, American History buff, stanch Red Sox fan and enjoyed solving crossword puzzles daily. He loved to 'tinker'. Bud could fix/repair anything, especially cars and boats. His strength and agility was most evident as he sped around on one water ski, well into his 70's. Favorite pastime was to be with family on his boat on Brandy Pond, Naples, ME,
A Memorial Service and Internment in Riverside Cemetery, Cornish ME will be held on June 14
In lieu of flowers, donations in Bud's name may be sent to L.E.A., Lakes Environment Assoc., Bridgton, ME. Arrangements are by the W. Raymond Watson Funeral Home, East Providence, RI.