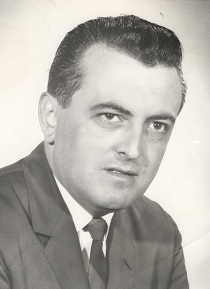 Date of Passing:
February 26, 2012
Arruda, George R., 81, of Bullocks Point Avenue, Riverside died peacefully on February 26, 2012 surrounded by his loving family. He was the beloved husband of Rosemary Ann (Falco) Arruda.

Born in Providence, a son of the late Manuel J. and Maria (Rogers-Medeiros) Arruda, he lived in Riverside for 27 years.

Mr. Arruda was a vice president in the mortgage and banking industry for many years. He was a member and officer of the Cup Defenders, Bristol for many years. He enjoyed spending time with his loving family, especially his faithful cat 'Snoopy'.

George was a United States Marine Corps Veteran serving during the Korean Conflict.

Besides his wife of 61 years, he is survived by three daughters; Karin M. Stewart and her husband Joseph of Bristol, Cheryl A. Swanson of Bristol and Leslie B. Hardy and her husband Scott of Gales Ferry, CT, a sister; Alice Perry of East Providence, nine grandchildren; Joe, Shawn, Chris, Joy, Elizabeth, Kaylee, Felicia, Trisha, and Mariah and seven great grandchildren; Shawn, Andrew, Lilly, Joseph, Hope, William and Isaac.

His funeral will be held on Thursday March 1, 2012 from the W. RAYMOND WATSON FUNERAL HOME, 350 Willett Avenue, Riverside at 8:00 a.m. with a Mass of Christian Burial in St. Brendan Church, Turner Avenue, Riverside at 10:00 a.m. Burial with Military Honors will follow in Mt. St. Mary's Cemetery. Calling hours are Thursday morning 8 ' 9 a.m.