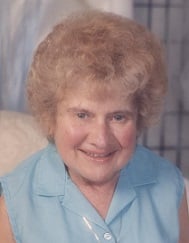 Date of Passing:
July 24, 2014
Chiariello, Gloria, 83, of Beverly Road, Riverside, died peacefully on July 24, 2014 surrounded by her loving family. She was the beloved wife of John J. Chiariello.
Born in Worcester, MA, a daughter of the late Harry and Dorothy (Bickoff) Speigel, she lived in Riverside for 50 years.
Mrs. Chiariello was a data processor for 33 years before retiring in 1993.
Gloria was a devoted Boston Red Sox fan and an avid reader. She enjoyed walking and playing the piano.
Besides her husband of 65 years, she is survived by a daughter, Susan A. Chiariello and her husband David Harrington of Lincoln; a son, Andrew D. Chiariello and his wife Jane Chairiello of Rumford; a sister, Irene Kunis of Manhattan, NY and a grandson, Andrew D. Chiariello Jr.
Her funeral will be private.